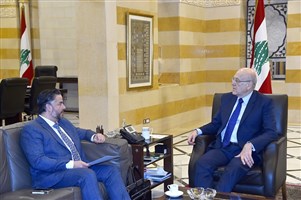 Print
Mikati holds series of ministerial meetings over health, educational and economic affairs
Wednesday, May 31, 2023
NNA - Caretaker Prime Minister, Najib Mikati, on Wednesday held a series of ministerial meetings at the Grand Serail, devoted to an array of health, economic and educational dossiers.

In this context, Caretaker PM Mikati met with Caretaker Minister of Economy and Trade, Amin Salam, who said on emerging: "I briefed the PM on the positive atmosphere that we are building on for the next season in the country, and our keenness on giving a glimpse of positive hope."

Caretaker Minister Amin also urged the Lebanese private sector, including restaurants and hotels, and every merchant in Lebanon, "to reflect a good image of Lebanon, and not to exploit the tourist season to raise prices."

Caretaker Premier Mikati then met with Caretaker Minister of Health, Dr. Firas Al-Abiad, and MP Ahmed Al-Khair.

Discussions reportedly touched on the current conditions of the country's healthcare sector.

On emerging, asked about the information about the increase of the prices of incurable diseases' medicines, Al-Abiad denied such info, considering it baseless.

Separately, Mikati also received respectively MP Bilal Abdullah, and former MP Naamtallah Abi Nasr, over an array of relevant affairs.

The Prime Minister also met with Head of the General Labor Confederation, Beshara Asmar, the Director General of the National Social Security Fund (NSSF) Mohammad Karaki, and the Head of the Syndicate of Workers and Employees at the National Social Security Fund (NSSF) Hassan Houmani.

The meeting took stock of the current conditions of the NSSF.

Among Premier Mikati's visitors for today had been a delegation from the International Initiative to Lift the Siege on Gaza.
more videos
كلمة الرئيس ميقاتي أمام الهيئة العامة للأمم المتحدة