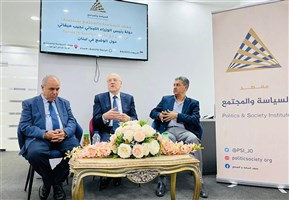 Print
Mikati from Amman: For Parliament to choose suitable candidate to form a government
Friday, Jun 10, 2022
NNA - Caretaker Prime Minister, Najib Mikati, stressed the need for "the Parliament to choose whomever it deems fit to form the new government," underlining that the Cabinet formation process must take place without conditions and complications imposed by any party in the face of the prime minister-designate.

The Caretaker Prime Minister also indicated that "the presidential elections may be delayed, but will happen."

Premier Mikati's words came during a dialogue meeting at the invitation of the "Institute of Politics and Society" held in the Jordanian capital, Amman, in the presence of the Institute's Honorary President, Sharif Shaker bin Zaid, and Chairman of the Board of Trustees Azmi Mohafazah.
more videos
لقاء خاص مع الرئيس نجيب ميقاتي على قناة TRT عربي