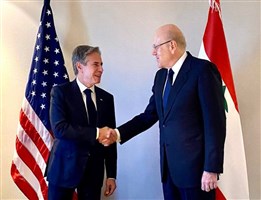 Print
Mikati calls on international community to put pressure on Israel to stop its aggressions against Lebanon
Saturday, Nov 04, 2023
NNA - Prime Minister Najib Mikati held a meeting with US Secretary of State Anthony Blinken in the Jordanian capital, Amman, this morning, in the presence of Lebanese Ambassador to Jordan Youssef Emile Raji, US Assistant Secretary of State for Near Eastern Affairs Barbara Leaf, and Deputy Chief of Staff of the State Department Tom Sullivan.

During the meeting, Mikati stressed "the priority of reaching a ceasefire in Gaza to stop the ongoing Israeli aggression there, as well as working to stop the Israeli aggression against southern Lebanon and the scorched earth policy followed by Israel using internationally banned weapons to continue inflicting more human losses and destroying the occupied areas, territories and southern cities."

The Prime Minister stressed that "Lebanon, which is committed to international legitimacy and the implementation of International Resolution 1701, and in coordination with UNIFIL, calls on the international community to put pressure on Israel to stop the daily Israeli encroachments and violations on its land and sovereignty on land, sea and air."

In turn, the US Secretary of State stressed that "he is making every effort to stop military operations for humanitarian purposes, provided that this is accompanied by the start of research into dealing with the prisoners' file."
US Secretary of State Anthony Blinken
more videos
لقاء خاص مع الرئيس نجيب ميقاتي على قناة TRT عربي