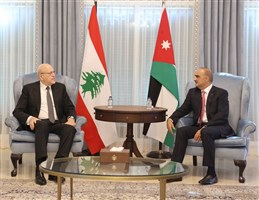 Print
Mikati meets his Jordanian counterpart
Sunday, Nov 05, 2023
NNA - Prime Minister Najib Mikati met in Amman this morning with his Jordanian counterpart, Bisher Al-Khasawneh, in the presence of Jordan's State Minister for Prime Ministerial Affairs, Ibrahim Al-Jazi, and Lebanon's Ambassador to Jordan, Youssef Emile Raji, where talks centered on "the need to intensify Arab and international efforts to stop the Israeli aggression against Gaza and prevent the expansion of the circle of conflict in the region."

Both Prime Ministers reiterated their countries' positions "in calling for ending the Israeli aggression against Gaza, ensuring the sustainable delivery of humanitarian aid to the brothers in Gaza, and absolutely rejecting the forced displacement of Palestinians from their land."

Mikati appreciated "King Abdullah II's stances in supporting Arab issues, especially the Palestinian cause," stressing that "the efforts and communications he is making with Arab and international parties are to ensure the cessation of the Israeli aggression against Gaza, secure the sustainable arrival of aid, and reject forced displacement."

In turn, Al-Khasawneh emphasized that "Israel's impunity for its transgressions and flagrant violations of international humanitarian law by committing massacres and targeting civilians must end," asserting that "the life of the Palestinian is of no less importance than the life of any other person in the world."

The Jordanian PM also underlined "the advanced position of King Abdullah II, since the very first day of the aggression against Gaza, in mobilizing international support to stop the aggression against Gaza and the humanitarian catastrophe facing the brothers in the Gaza Strip, and to ensure the uninterrupted access of humanitarian and medical aid."

"Jordan's diplomacy led by the King has always stressed that the cycle of this violence will not end except by ensuring a political horizon that leads to the establishment of an independent and fully sovereign Palestinian state along the lines of June 4, 1967, with East Jerusalem as its capital, and within the framework of the two-state solution that guarantees security and stability for the countries of the region and its peoples," the Jordanian PM underscored.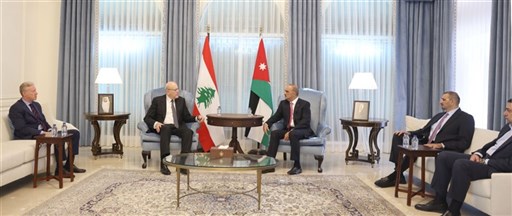 Jordanian Prime minister Bisher Al-Khasawneh
more videos
لقاء خاص مع الرئيس نجيب ميقاتي على قناة TRT عربي