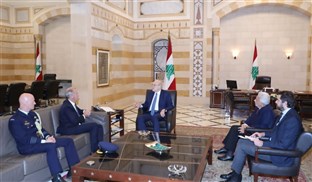 Print
Mikati meets Australian and Brazilian Ambassadors
Monday, Nov 06, 2023
NNA - Caretaker Prime Minister, Najib Mikati, on Monday received an invitation from the Custodian of the Two Holy Mosques King Salman bin Abdulaziz Al Saud, to attend the emergency Arab summit "to discuss the Israeli aggression against the Gaza Strip and developments in the occupied Palestinian territories next Saturday, the eleventh of this month, in Riyadh."

On the other hand, Premier Mikati held a series of diplomatic and political meetings at the Grand Serail today.

In this framework, Mikati met with Australian Ambassador to Lebanon, Andrew Barnes, in the presence of the Prime Minister's Advisors, Ambassador Boutros Asaker and Ziad Mikati.

Discussions reportedly touched on the current situation, as well as bilateral relations between the Lebanon and Australia.

The Prime Minister later met with Brazilian Ambassador to Lebanon, Tarcísio Costa, over the current general situation and the bilateral relations between the two countries.

Mikati then received MP Wael Abou Faour, who announced after the meeting that he conveyed to the Premier, the Progressive Socialist Party and the Democratic Gathering's appreciation for the great efforts he is making at the level of Arab and international contacts, as part of the Arab communications network that is being conducted to stop the aggression in Gaza.

Moreover, Mikati received at the Grand Serail, the "Renewal" parliamentary bloc, which included MPs: Ashraf Rifi, Fouad Makhzoumi, Michel Mouawad and Adeeb Abdel Massih.

The PM also received at the Grand Serail, in the presence of Caretaker Displaced Minister, Issam Sharaf El-Din, a delegation representing the "National Coalition for the Return of Displaced Syrians".

The meeting took stock of the risks ensued in line with the continued presence displaced Syrians on Lebanese territories, especially amid the prevailing circumstances.

The meeting also stressed the need to activate the displaced Syrians' return to their homeland as soon as possible.

Mikati also met with Beirut Municipality head, Abdallah Darwish.
more videos
لقاء خاص مع الرئيس نجيب ميقاتي على قناة TRT عربي