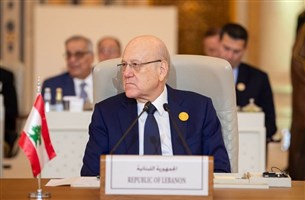 Print
Mikati: What southern Lebanon is witnessing is a result of Israel's worsening attacks on national sovereignty
Saturday, Nov 11, 2023
NNA – In his delivered address at the extraordinary joint Arab-Islamic summit that opened this afternoon in the Saudi capital, Riyadh, Prime Minister Najib Mikati said that what is happening in the south of Lebanon is a result of Israel's worsening attacks on national sovereignty and its continued violation of UN Resolution #1701.

"Since the outbreak of the Gaza events, I have personally taken the initiative to launch public calls to preserve calm and restraint on the southern border, and I issued warnings against the expansion of the destructive war in Gaza to southern Lebanon and from there to the region," he said.

Mikati considered that today's emergency summit in Saudi Arabia comes to affirm the centrality of the issue of Palestine, land and people, and the values it holds that everyone believes in.

Referring to the tragic scenes of the bloodshed in the Gaza Strip, the premeditated slaughtering of childhood, the deadly Israeli attack on journalists and the three girls who were martyred with their grandmother due to Israeli treachery in southern Lebanon, and the continued systematic destruction, Mikati considered that all words of condemnation fail as time has proven that Israel has no weight for any words of denouncement nor is it deterred by international law or human conscience.

"Therefore, at this moment that brings us together in the land of the Two Holy Mosques, we are called to solidarity and joint action to save Palestine and Gaza. We all reviewed the catastrophic situation, but we have to move to the decision box...We must work together to establish an immediate and unconditional ceasefire, open the crossings and bring aid to our brothers in Gaza, and launch a serious and effective political path that pushes towards a just, comprehensive and lasting solution to our central issue," Mikati underscored.

He continued to stress that "in order to reach a solution to the Arab-Israeli conflict, the two-state solution remains the best path forward, and seeking to build a better future for all of us on the basis of the Arab Peace Initiative launched at the Beirut Summit in 2002."

"Our choice in Lebanon has always been and still is peace, and our culture is a culture of peace based on truth and justice, international law, and international legitimacy resolutions," Mikati underlined. However, he stressed that the Lebanese are a people who have not accepted, and will not accept, attacks on their sovereignty, national dignity, territorial integrity, and on their civilians, especially children and women.

"Today we renew before you Lebanon's commitment to international legitimacy - especially Resolution 1701 - and we stress the necessity of pressuring Israel to implement all of its provisions and oblige it to stop its provocations and aggression against our homeland," the Prime Minister emphasized.

Mikati said that Lebanon has always advocated the Palestinian cause and it has paid, and is still paying, the price of the Israeli aggression. "The apparent weakness of the structure of our state is only due to its falling on this seismic fault that caused it to be plunged into vacuum and void...But we are accustomed to your help, and I do not need to emphasize that all Lebanese, without exception, stand with Gaza and Palestine, and they hope that all Arabs will be their embrace and fortress to ward off collapse," he concluded.
more videos
لقاء خاص مع الرئيس نجيب ميقاتي على قناة TRT عربي