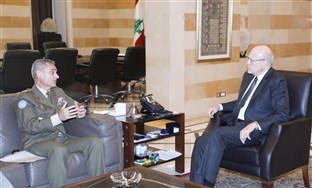 Print
Mikati meets UNIFIL commander at Grand Serail
Tuesday, Nov 14, 2023
NNA - Caretaker Prime Minister, Najib Mikati, on Tuesday met at the Grand Serail with UNIFIL Head of Mission and Force Commander, General Aroldo Lazaro, who visited him with an accompanying delegation.

The meeting took place in the presence of Premier Mikati's Advisors Ambassador Boutros Asaker and Ziad Mikati.

Discussions reportedly touched on the situation in southern Lebanon and the difficulties facing UNIFIL in its tasks.

Premier Mikati renewed "Lebanon's thanks for all the sacrifices made by UNIFIL forces while performing their duties since their establishment until today, the most recent of which was the wounding of a soldier a few days ago."

The Prime Minister also hailed "the arduous efforts being made by UNIFIL at this difficult stage in order to reduce tension and prevent, as much as possible, the aggravation of the existing military clash along and across the Blue Line, which is the result of Israeli provocations and its violation of the provisions of Resolution 1701."
more videos
لقاء خاص مع الرئيس نجيب ميقاتي على قناة TRT عربي