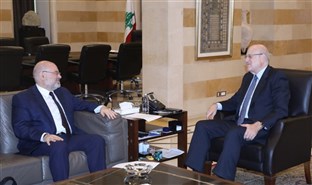 Print
Mikati broaches developments with Abiad, Mawlawi
Wednesday, Nov 15, 2023
NNA - Caretaker Prime Minister, Najib Mikati, on Wednesday met at the Grand Serail with Caretaker Minister of Public Health, Dr. Firas Al-Abiad.

In the wake of the meeting, Abiad said: "We've discussed an array of topics, including the Ministry of Health's preparation of an emergency plan to boost the Lebanese health sector's readiness amid the prevailing circumstances."

Talks between the pair also touched on the measures being taken to provide treatment to the victims of Israeli attacks in the southern Lebanese region.

The Prime Minister then met with Caretaker Minister of Interior and Municipalities, Judge Bassam Mawlawi.

The Caretaker Prime Minister separately welcomed United Nations Special Coordinator for Lebanon, Joanna Wronecka, with whom he held a tour de horizon ahead of the UN Security Council's meeting on November 22, 2023.

"I wanted to meet with Premiere Mikati and exchange views in the wake of the Arab summit in Riyadh, especially since a Security Council meeting will be held on November 22, 2023 to discuss Resolution 1701 and fresh developments in Lebanon," Wronecka said on emerging.

Mikati later met with Caretaker Minister of Foreign Affairs and Emigrants, Abdullah Bou Habib, who briefed him on his upcoming visit to both the European Union and Belgium, as well as on the meetings that he will be holding with his counterparts, in addition to his participation next week in the meetings that the Union for the Mediterranean.

Mikati separately received Greek Ambassador to Lebanon, Despina Koukoulopoulou, who paid him a protocol visit.
more videos
لقاء خاص مع الرئيس نجيب ميقاتي على قناة TRT عربي