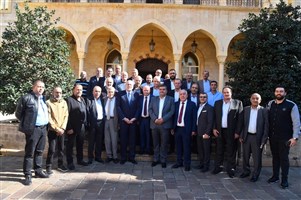 Print
Mikati received Federation of Trade Unions and Employees in North Lebanon
Thursday, Nov 16, 2023
NNA - Caretaker Prime Minister, Najib Mikati, in presence of head of the General Labor Confederation, Bishara Al-Asmar, on Thursday welcomed a delegation representing the Federation of Trade Unions and Employees in North Lebanon, headed by Shadi Al-Sayed.

"We've demanded that the 2024 state budget proposed today at the House of Parliament be considerate in terms of taxes and fees because people could no longer bear the increasing financial burdens," the GLC head said on emerging.

The Prime Minister separately met with the Director General of Protocol at the Presidency of the Republic, Nabil Shadid, the Director General of Protocol at the House of Parliament, Ali Hamad, and a representative of the General Directorate of Protocol at the Council of Ministers.

The meeting discussed the logistical preparations intended to be made for Independence Day.

During the meeting, Mikati provided his visitors with necessary directives.
more videos
لقاء خاص مع الرئيس نجيب ميقاتي على قناة TRT عربي