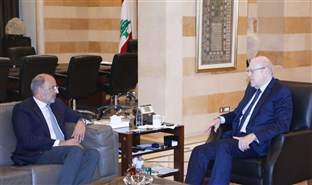 Print
Mikati meets Caretaker Social Affairs Minister, UN's Riza, Spanish Ambassador
Friday, Nov 17, 2023
NNA - Caretaker Prime Minister, Najib Mikati, on Friday met at the Grand Serail, with Caretaker Minister of Social Affairs Hector Al-Hajjar, with whom he discussed files related to his ministry.

Premier Mikati also received at the Grand Serail the United Nations Resident and Humanitarian Coordinator for Lebanon, Imran Riza, with discussions reportedly touching on the existing cooperation between the government and United Nations organizations in terms of services, humanitarian, health and social efforts.

Mikati later welcomed at the Grand Serail, the Spanish Ambassador, Jesús Santos Aguado.
more videos
لقاء خاص مع الرئيس نجيب ميقاتي على قناة TRT عربي